House Hunting Check List-PRINTABLE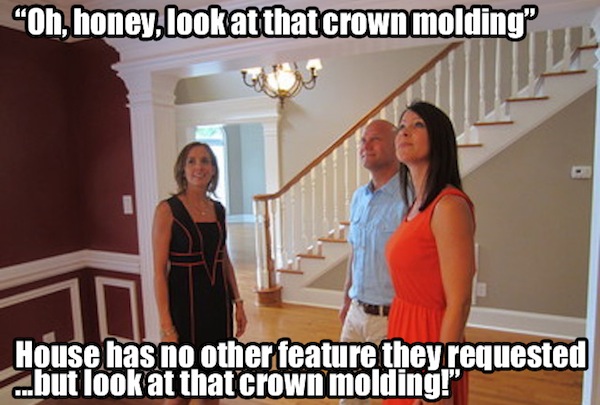 House Hunting Check List
Viewing multiple listings in one day? This 'House Hunting Checklist' is the perfect item to have with you!
This helpful checklist makes it easy for you to keep track of your notes about potential homes. With questions regarding both the home and neighborhood, the House Hunting Checklist is a great way to note why the property will or won't work.
We recommend printing a few copies before your house hunting trip takes place. Don't forget a clipboard and a pen!
Some of the items covered include:
The Home:
Exterior Condition
Floorplan
Kitchen
Family Area
Dining Area
Laundry Room
Master Bedroom
Master Bathroom
Extra Bedrooms(s)
Extra Bathroom(s)
Garage Size
Lot
The Fixtures:
Kitchen Appliances
Laundry Appliances
Fireplace
Patio/Balcony
Pool
A/C & Heating System
Security
Does this house make the short list?
Notes About the Neighborhood:
Appearance
Traffic
Security/Safety
Nearby Schools
Close to: WORK SCHOOLS TRANSPORTATION MARKETS RECREATION/PARKS RESTAURANTS
OVERALL RATING 1 2 3 4 5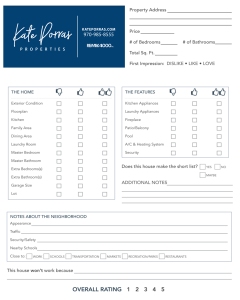 Download the PDF/Printable version HERE: Kate Porras Real Estate House Hunting check List
Some other house hunting tips to keep in mind during your viewings:
Take photos
Wear comfortable clothing
Ask about any known damages or home history
Know your budget
Keep your expectations realistic
House hunting can be stressful, but these few tips and tricks will help you keep track of the homes you tour. And as always to help lessen the stress contact me!
970-985-8555 or message me below!